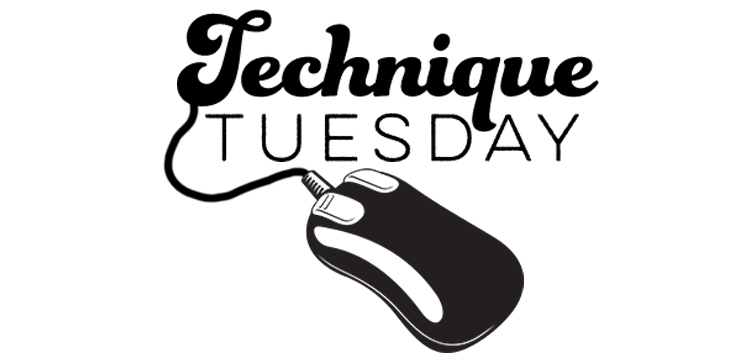 Creating a Variegated Color Effect on ScrapSimple Ribbon
I love adding ribbons to my layouts. They add visual interest and help draw the eye to a focal point. I created a variety of ribbon and bow clusters for ScrapSimple Embellishment Templates: Ribbon Borders to be colored to coordinate with any layout. You probably already have a favorite technique to recolor embellishments such as these ribbons, but here's a way for you to use two or more colors to create a variegated ribbon. In this case, I wanted to blend two green colors picked from the photo. This method uses Adjustment Layer Masks.
To begin, recolor the ribbon using your favorite method. I like to recolor embellishments by adding a Solid Color Fill layer and picking a color from the photo or the layout, then clipping it to the ribbon layer. I like to use the "Linear Light" Blending mode and then use the Color Picker to choose a darker
2. Select the layer mask thumbnail of the color fill layer by clicking the white square Hit Ctrl+I, inverting the layer mask from white to black. The color will disappear because it is completely masked.
3. Select the Brush Tool and choose a soft round brush sized about 400-500 pixels. With white as your foreground color and with the mask selected, paint the color back onto your ribbon in various
4. Use the same method as above to recolor your ribbon with a second color. You may want to toggle the visibility of the current layer temporarily by clicking the eye to the left of the layer.
5. Now comes the magic! Replace the mask of the second color fill layer with a copy of the mask you created for the first color fill layer. To do this, select the first color fill layer mask. Holding down your Alt key, use your mouse to click and drag it to the second fill layer, replacing it. Now invert the second color fill layer mask by selecting it, then click Ctrl+I on your keyboard. Finally, toggle the visibility of the first color fill layer. Your layers will look like this:
You now have a two-color variegated ribbon! In this layout, I colored the bow by copying the color fill layers and clipping them to the bow layer. Here's the finished layout:
Give this tutorial a try and then upload your creations to the Scrap Girls Gallery! I'd love to see how you use this fun coloring technique to enhance your digital scrapbooking!
Happy scrapping!


Tutorial written by Elisha Barnett