Designer Laura Louie is more than a great designer; she's an engaging story-teller, too! As Laura worked on the March
ScrapSimple Club: Handmade,
she remembered this story about her college painting class — when "handmade" didn't involve just 
her hands
 but… well, we'll let her tell the story….
 In college, I really did have to draw and paint nude people, and I remember bringing home my paintings to show my parents who promptly said, "We don't have to hang that up or anything, right?"  
    But then one day we were assigned a still life! I remember being excited about this for two important reasons:
            1: because everyone in the class would have clothes on.
            2: I could paint something purple!
     My subject was a bowl of fruit and some small, purple flowers. Now as anyone who has ever oil-painted knows, it takes an eternity for the oils to dry. So, it was still quite wet when I brought it home. My parents were not wildly impressed with my latest creation, but at least they seemed relieved to know they wouldn't have to "cover it up" before it went in the trash.
     I laid the painting on a table in the basement and didn't think about it anymore that day. However, our kitten, Tabatha, was apparently quite the art critic and took it upon herself to "enhance" my painting. She walked all over the painting, leaving tiny paw prints scattered all through the painting (not to mention purple paw prints throughout the house)!
      I prepared to fix my painting and was surprised when my parents stopped me. At first glance, you really can't even tell the paw prints are there. But once you study it, you start to see them throughout the painting. They liked having their own customized Hidden Pictures in a painting! 
     To this day, that painting is still hanging in my parents' living room. It's also the ONLY painting of mine they ever kept!
Laura captures the creative process of crafting in her 
Handmade 
kit this month, so be sure to grab it while it's our featured 
ScrapSimple Club for
March!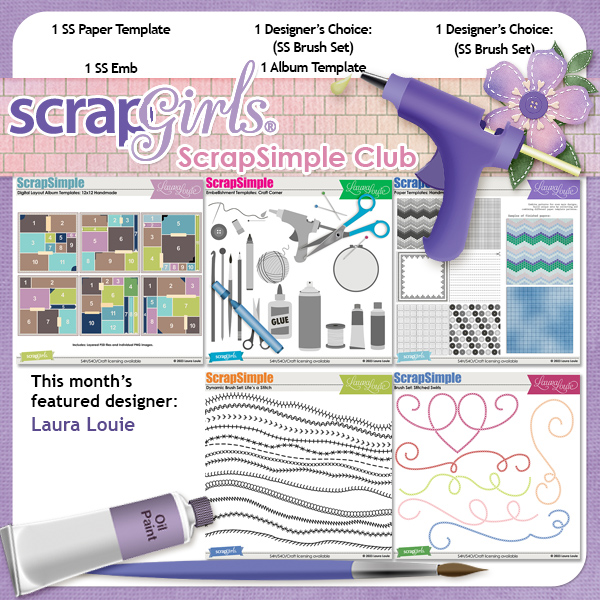 ---
An Amazing Deal!
If you were to buy all of the items in the club individually from the Boutique they would cost nearly $40.00 and we offer it to you for just $9.99 a month!
MONTHLY SUBSCRIPTION

---