When scrapping, I love to use keyboard shortcuts. They are exactly that – shortcuts – and they are great timesavers. It's so simple to just press two or three keys to accomplish a task. Easy peasy! The alternative is to get my mouse, go to the menu bar, click on the menu I want, find the specific command I want to execute, then select it to get the results I want. Sometimes, that just takes too long for what I want to do!
You probably know some shortcuts already – like the ever-familiar Ctrl+Z = Undo, but there are many, many other shortcuts available to help you accomplish various tasks. Today, I'll share a few of my favorites with you. I've provided a few screenshots highlighting some of these. Notice that the commands which have keyboard shortcuts will have the shortcut listed next to the command.
File Commands:
Ctrl+N = New Blank File
Ctrl+O = Open File (An alternative to this is to double-click on a blank area of the workspace, which I think works just as well as the keyboard shortcut.)
Enhance Commands:
Alt+Ctrl+B = Convert to Black and White
Ctrl+L = Levels Adjustment
Ctrl+U = Adjust Hue/Saturation
Shift+Ctrl+U = Remove Color
Layer Commands:
Ctrl+G = Create Clipping Mask
Ctrl+E = Merge Down
A few extra commands that I like to use are the Fill Commands:
Alt+Delete or Alt+Backspace = Fill background with Foreground Color
Ctrl+Delete or Ctrl+Backspace = Fill background with Background Color
There are many more shortcuts and cheat sheets available, including those for brushes, panel bin, rulers, selections, and tools. To learn more about these, do a search for Keyboard Shortcuts or Photoshop Elements Keyboard Shortcuts. Don't forget that you can always post any questions in the Scrap Girls Forum. Someone is always available and happy to help. Happy scrapping with PSE shortcuts!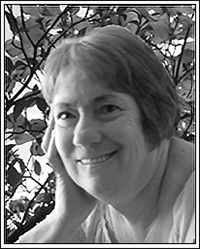 Article written by Theresa Guyer