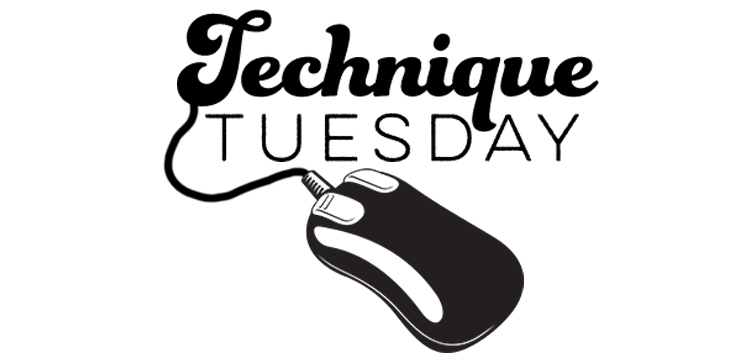 How to Create Sketch Overlays
Tutorial created in Adobe Photoshop CS6
In this tutorial, we will turn one of the Botanical Edgers into a sketch. Although these have already been provided for you as a brush set with the product, you will be able to create sketch overlays from any flower or leaf element in your stash.
Open the Botanical Edger that you wish to turn into a sketch (File > Open). I'm demonstrating with Edger No. 2.
In the Menu Bar choose, File > Duplicate (PSE: Image > Duplicate). Now close the original file and work with the copy.
Press Ctrl Shift U (Mac: Cmd Shift U) to turn the image to grayscale.
In the Menu Bar, choose Filter > Stylize > Find Edges.
Open the Levels Dialogue box (Ctrl L or Mac: Cmd L).  Move the left and right sliders under the histogram towards the center. This will darken the edges and lighten the background. If you move the middle slider to the left a little, that will help to lighten up the mid tones, if necessary.
So you can see it better, press the Ctrl key (Mac: Cmd key) and click on the New Layer icon in the Layers panel to create a new layer below your flower layer.
Press Ctrl Backspace (Mac: Cmd Delete) to fill that layer with white.
Your Image should now look like this.
Make a Brush
In the Menu Bar, choose Edit > Define Brush Preset. Give your brush a name and click OK.
Use Your Brush on a Paper
Get the Move tool.
Open a paper you'd like to add the brush to.
Get the Brush tool, open the Brush Preset Picker and select the brush you just made.
Choose a color by clicking on the Foreground Color Chip. (I chose a darker beige: Hex Code: b4a187.)
Click on the New Layer icon in the Layers panel to create a new layer at the top of the stack.
Stamp with the brush where you want the sketch overlay to sit.
Here's what my paper looks like now.

(Click the images below to be taken to their product pages)

Tutorial written by Susie Roberts