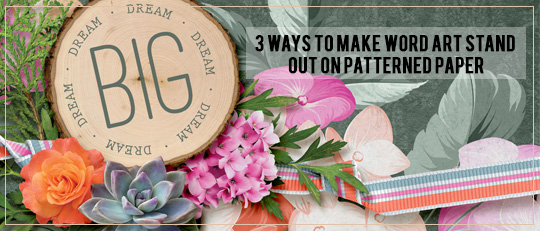 This month's Scrap Girls Club by DRB Designs has a fun mix of pretty embellishments, patterned papers, and word art. Sometimes I shy away from working with word art in a collection because it can be hard to read on a busy background or the colors don't quite go with my page. In this tutorial, I'll show a few ways you can make word art stand out on your digital scrapbook pages!
1. What's under it?
A really important tip is to pay close attention to where you place your word art and what is under it. Place the word art over a journaling paper or blank word art tag to make it look like it is written on the paper. I used a wood circle in the example below. You can try applying a Blending mode to make a bit of the wood or paper texture show through the lettering for an even more realistic look.

2. Use a mask with a solid paper.
Place the mask under the word art layer and then clip the solid paper to it. Be sure to choose a solid paper that works well with the patterned background paper. In the example below, you can see how much easier it is to see and read the word art on the right, which has the masked paper layer under it.

3. Recolor the word art.
The ability to recolor is one of the joys of working with digital products! You can use a style, a Hue/Saturation adjustment, or even clip a paper over the word art layer. In the example below, I used a Hue/Saturation adjustment to increase the Saturation and reduce the Lightness of the word art.

Make the word art in this month's Scrap Girls Club work for you by trying one or more of these tips on your pages! We'd love to see your pages with your stand out word art in the Scrap Girls Club Gallery.

An Amazing Deal!
If you were to buy all of the items in the club individually from the Boutique they would cost $27.64 and we offer it to you for just $9.99 a month
MONTHLY SUBSCRIPTION

Tutorial by April Martell