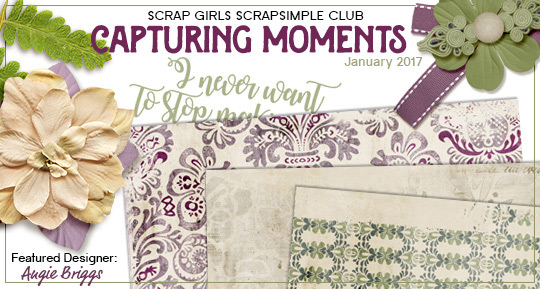 Raise your hand if you're absolutely, completely, entirely caught up with scrapping every print and digital picture in your possession…. Hmmm, no hands? Well, you're in good company! We're all fairly drowning in pictures now that technology allows us to take just about all the pics we want (or at least as many as we can fit on an SD card). Designer Angie Briggs has twin sons so she knows what it means to be knee-deep in pics. But her perspective gives us a new perspective: "You have to keep in mind that every one of those pictures represents one moment in time. That moment will never come again – but thankfully, if you've captured the moment, then you've got it forever." She created the January ScrapSimple Club: Capturing Moments as a versatile tool to work with any type of layout to help you chronicle your favorite images in scrapbooks, photobooks, cards, and more!

Fun Fact: 
We love hearing what happens behind-the-scenes as our designers create their clubs: "To be totally honest, I struggle every time I sit down to do a ScrapSimple club," Angie admitted. "I can never decide what direction I want to go with the club! However, this time I quickly knew I wanted to focus on photos – but the trick was to figure out just what to focus on. After spending some time researching on photography sites and Pinterest, I found a few trends I wanted to work on, such as placing word art on photos, adding an overlay to photos, and finishing those off with a mask or frame. I hope that this club will spark your interest in taking your photos to the next level! I enjoyed creating this club so much, and I hope you love using it!"
Layout by Andrea-Rose Hutton

Layout by Judy Webster

Layout by Geraldine Touitou

Layout by Carmel Munro

Layout by Geraldine Touitou

Inspiration for this Club: 
Angie's love for photography inspired her to explore ways to take a beautiful photo and turn it into a piece of art using color, texture overlays, Blending masks, and fun frames.
JANUARY 2017 SCRAPSIMPLE CLUB
An
Amazing Deal!
If you were to buy all of the items in the club individually from the Boutique they would cost $19.15 and we offer it to you for just $6.99 a month!
MONTHLY SUBSCRIPTION

Angie included some amazing bonus items in this club! Check them out:
– The Nano includes three gradient overlays (8×10-inch) to add on top of your photo, then you can adjust the Blending mode of that layer.
– The Photo Style set gives you two matte styles (one subtle, one more dramatic), a warm tone, a pastel tone, and a white pop style.