Layout created Adobe Photoshop CS4 and Windows Vista
Recently someone asked me the question, "Why do you scrapbook?" It took me a while to think about it, and there isn't a single answer to the question. You see, for me digital scrapbooking goes much deeper than meets the eye.
Yes, I scrapbook to document our family memories and the various stages and activities in our children's lives. No family would be complete without those! I take on the role of the family memory-keeper with camera in hand and current computer technology on my desk!
Yes, I scrapbook to document our family ancestry. We have boxes and boxes of prints and slides. Every time I go to my mom's house, I scan a few more. My dad has literally thousands of slides in the closet that he left behind for us to sift through. My siblings and I grew up in front of the camera, and I am thankful that we have those thousands of memories. In fact, it is from my dad that my love for photography was born. Both sides of my family and my husband's family are well-documented in photographs dating back to the early 1900s. Getting those pictures out of the boxes and into a medium which can be enjoyed is one of my motivating factors for scrapbooking. The richness and depth of the family tapestry is something I want our kids to see, learn about, and appreciate.
Yes, I scrapbook because I love the technology. How is it that a bunch of bits and bytes come together and create something so fun and beautiful? I love using Photoshop and creating beauty with the click of a mouse – taking something from my mind's eye to something totally digital. The way digital scrapbooking supplies can be altered over and over is so enthralling; changing color, texture, opacity, saturation, yet never changing the original, and being able to use the same item 1,000 times over! Even my external hard drive thrills me. It is the single thing in my entire life over which I have total control! Everything in it will be where I left it the next time I need it!
But the real reason I do digital scrapbooking goes much deeper than any of that. For me, my journey began even before it had its name. It was this unnamed, deep-seated thing for which I found myself searching. Mark and I would search bookstores anywhere we went, looking for this thing that I couldn't explain. As we searched, bookstore staff would invariably direct us to the Photoshop section, but that wasn't enough. We always left empty-handed, still searching.
With my very first digital camera in 1999, I dabbled in Photo Deluxe – Home Edition. This software eventually became Photoshop Elements. I played around with filters and selection tools on my photos. I felt like this was something that was really drawing me in, but yet this thing was still incomplete and unnamed.
In 2006, my dad had a heart attack, and I traveled to Michigan to be by his side. For two weeks, my family gathered as he underwent heart surgery and a difficult recovery. In the hospital gift shop was a magazine – Digital Scrapbooking Magazine. It was very expensive, so I admired it from afar, but thought to myself that this was "It!" On the day that it was time for me to leave and return home, I bit the bullet and bought the magazine. I remember on the plane ride home, I read every last word of that magazine. I read every article, every supply list, every ad, every caption, every everything! The whole time I was thinking to myself that this is what I had been looking for! This is what I wanted to do. This was so very cool. From this magazine, Scrap Girls first entered my life.
After joining Scrap Girls, I took every class, read every article, every eBook, every everything there was to learn this new "thing." I was so enthralled; it had answered this elusive missing link that I had been searching for. All of a sudden, I could name what it was that had been missing! It was digital scrapbooking! All of a sudden, I had this means of expressing myself creatively that I never knew existed. All of a sudden, I had an outlet for stress and a means of quieting my soul after a busy day with the kids or work.
All of a sudden, I realized that the chain of events that led me here was from God. All of this was from God. The searching for years, the discovery of the elusive "thing" in the hospital, the exploration of my creativity and the resulting blessings from being a Scrap Girl – yes, all from God. It is because of this that I honor God when I scrap – the real reason I scrap. I sit here in peace and quiet and thankfulness, usually in the night when the house is still, and I reflect as I scrap. I reflect on the day, I still my mind, and I fill my heart. It brings me a quiet joy. And as I take our family memories and make beautiful pages from them, it is truly God's creativity being expressed.
Digital scrapbooking means many things to many people. I hope my story encourages you to ask yourself, "Why do I scrap?" and challenges you to make your own layout about what scrapbooking (digital or otherwise) means to you.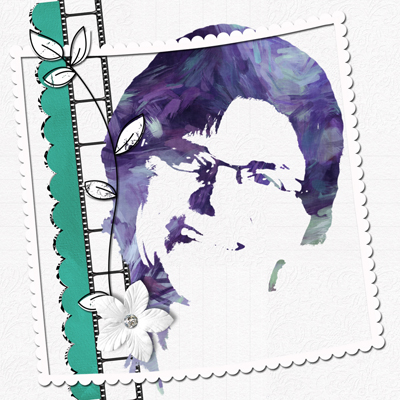 Article written by Amy Flanagan