Tutorial created Adobe Photoshop CS4 and Windows Vista
In digital scrapbooking, brushes bring another dimension of creativity to our layouts. They are a fun little tool that acts like a stamp or sticker. You can simply "stamp" them on your layout and add a color or a paper to them. Or you can use them as a shape to cut around or a matte under your photos. Brushes can be decorative, such as in a beautiful floral or swirl design, or they can be functional, such as a grunge brush, background blender, or a wash beneath your text or photo.
One of my favorite lines of brushes in the Scrap Girl Boutique is the Dynamic Brush. Dynamic Brushes are brush sets that have settings so that each "stamp" of the brush is altered slightly from the one before. The end result is a free-flowing brush that varies in shape, texture, intensity, or color as you move your mouse across the page.
One of my favorite uses of Dynamic Brushes is to make a border with them. When used in conjunction withScrapSimple Tools – Actions: Edge It 5001, fantastic borders can be made in a few simple steps.
Take a look at the example below. The layout is fine the way it is, but I would like to add some pizazz. Since I am working on a "chalkboard," I am selecting Dynamic Brush Set: Chalk Borders to add a decorative border to my layout. Let me show you how in a few easy steps!
To use your Dynamic Brush with the ScrapSimple Tools – Actions: Edge It 5001 this way, start with a blank layer. Select the Rectangle Marquee Tool, and draw the border that you plan to decorate. You will see the "marching ants" outlining your selection.
Next, select a Dynamic Brush and load it into your brush library using the instructions with your download. Select your Brush Tool and activate the brush you want to use. Then, with the marching ants active that you drew with your Marquee Tool, select and run the action.
There are six choices within the action to choose from. In my sample, I chose "Exact," which means the brush work will run along the exact selection that was highlighted. The other action choices in the set include Interior, Exterior, Expand, and Erase. The action would run along your active selection in a manner consistent with the description, giving you even more choices for using this dynamic tool!
By running the action, the Dynamic Brush automatically zips along that outline that is highlighted by the marching ants. With the automatic setting on the brush, there is some variation to each individual stamp. The end result is a beautiful border. Different brushes will give you different effects.
To show you another example of how this could look, I clicked Ctrl+click (left mouse button) on the border that I just made. This activated the layer with the soft chalk underneath the border. With the marching ants activated, I hit theDelete key while on the chalk layer. The result is the negative image of the border; it looks like an eraser was used to create this design in the chalk dust. However, the exact same Dynamic Brush was used.
In this layout, the border is only around the perimeter of the layout. This same technique could also be utilized to create a border around a photo, embellishment, or even an alpha. To do this, Ctrl+click on the thumbnail of the item around which you would like to put a border. Select your brush, run your action, and voila, you have a gorgeous border. You can then choose to either leave on or turn off the layer of the item you are outlining with the border, depending on the look you want to achieve!
The Scrap Girls Boutique has a wonderful selection of Dynamic Brushes. Just as with a regular brush, Dynamic Brushes can be decorative, as in my example, or they can be functional as in a background blender, pen, or paint brush for blending or sketching. I hope you explore this section of the Boutique, and experiment and play with a Dynamic Brush and see where your creativity leads you!
Digital scrapbooking products used:
Commercial license versions of Dynamic Brush Set: Chalk Borders, ScrapSimple Tools – Actions: Edge It 5001, ScrapSimple Tools – Styles: Chalkboard 6301,Laughter and Sunshine Collection Biggie and ScrapSimple Tools – Actions: Sketch It PS 8501 Mini are also available.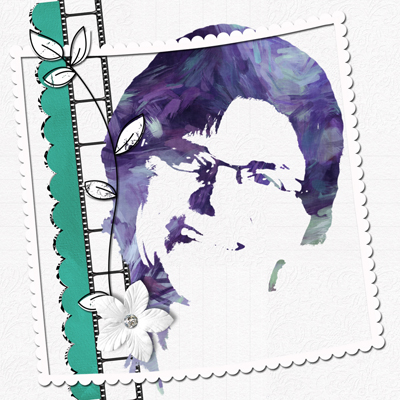 Tutorial written by Amy Flanagan