Tutorial created in Adobe Photoshop CS6 using Windows 7
Heritage photos are a favorite to use on my digital scrapbooking pages. Most of my old photos have faded and have some form of color cast. In this tutorial, you will learn how to use adjustment layers in Photoshop to fix these problems using an old black and white photo.
Why use adjustment layers? While you can apply the image adjustments directly to a layer, adjustment layers have some key advantages:
They are non-destructive because they don't alter your original image. They simply apply the changes to a layer above your image that can be changed, turned off, or deleted later if you change your mind. It is easy to modify an adjustment layer. Just double-click on its thumbnail.
Multiple adjustment layers can be used on one photo which allows you to combine and experiment with different settings.
You can reduce the adjustment layer's effect by reducing its opacity.
There is an Adjustment Panel in the version of Photoshop I am using (CS6). If your software doesn't have this, you can create them using either "Layer> New Adjustment Layer" in the top menu bar, or the black-and-white adjustment layer icon on the Layers Palette.
Now that you know a bit more about them, let's get to work! This photo of my great-grandmother is 122 years old and has a dark golden color cast. The color just isn't the look I want for a layout featuring a sweet little girl.
Create a Black & White Adjustment Layer by clicking on the icon in the Adjustments Panel. This will remove the colors from your photo and give you a black-and-white image. To let a touch of the original photo's color show through, reduce the Opacity of the adjustment layer (mine is at 75%).
The color looks better, but now my photo looks a little washed out. We can use another adjustment layer to correct this. Create a Levels Adjustment Layer by clicking on the icon in the Adjustment Panel. The levels properties window will pop up. There are three sliders under the histogram: black, gray, and white. The black slider is at 0, the gray is at 1.0, and the white is at 255. Moving the black slider to the right will bring out the darker tones in the photo. The gray slider adjusts the mid-tones of the photo and the white slider adjusts the light tones.
For this image, I simply moved the black slider to the right until I liked how it looked. Now my photo has less color, but it still has the old photo feel I like in my heritage pages.
There is no limit to the things you can try. Adjustment layers are non-destructive, so you can play with many different combinations without damaging your original image. Try using adjustment layers to correct some of your old photos and post your digital scrapbook layouts in the Newsletter Tutorial section of the Scrap Girls Gallery. We'd love to see your work!
 Digital scrapbooking products used: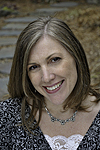 Tutorial written by April Martell