Article written using Photoshop CS6 with Windows 7
Creating greeting cards with your digital scrapbooking stash is great way to get some extra mileage out of your supplies. I like to create cards with a personalized message inside. In this tutorial, I will show you how to print an inside message for a greeting card with a side fold. To print cards with a top fold, refer to this tutorial on the Scrap Girls blog.
When you create your card, make your canvas twice the size of the card front. Our finished card will be 4.25 inches wide x 5.5 inches high, so you will need to make your canvas 5.5 inches high and 8.5 inches wide. Place a guide on the fold line so it is easier to visualize the folded edge of your card while you work. In this example, it is placed at 4.25 inches.
When you have finished the outside of your card, create a second page for the greeting on the inside of the card. It needs to be the same size and orientation as the outside of your card with a guide on the fold line. Place your greeting on the right side of the card.
A side-fold card would seem easier to print than a top-fold card because you can choose landscape printing in your print set-up, but this simply allows the print drivers to rotate your card, making it more difficult to know how to position your paper for the second side. After printing my first sample card wrong, I found it easiest to rotate the inside of my card 180 degrees before printing (Image> Image Rotation> 180°).
In your printer settings, set the orientation to "landscape" and the print position to "center." Place your paper in the printer. (I used a 61-lb. [11 mil], double-sided matte photo paper). Pencil a light X at the top of the paper on the side facing you before you print the first side. When you print the second side, make sure the X is at the top of the page facing away from you so your two sides will line up perfectly. Now, just trim and fold your card, and it will be ready to send!
Digital scrapbooking products used:
Commercial license versions of ScrapSimple Embellishment Templates: Memento Flowers and ScrapSimple Tools – Styles: Grungalicious Scratched Super Biggie 8501 are also available.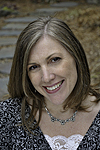 Tutorial written by April Martell