Article written using Photoshop CS6 with Windows 7
In this tutorial, I will show how to mix and match the layers from Yours Truly Embellishment mini using different items in the set.
When you look in the product folder for each item, you will see the individual PNG files as well as a layered PSD file of the embellishment. To create a background similar to mine, you will only need the yellow layer (highlighted below) from the bird embellishment. The easiest way to use a single layer from an embellishment is to place the PNG file into your layout. Do the same thing with the text layer from the butterfly embellishment.
We will use most of the layers of the frame and clock embellishments, so it is easiest to open their PSD files in Photoshop. Select the layers you would like to use. You can select more than one layer by holding down the Ctrl key as you click. It is a good idea to link the layers at this point. Link selected layers by clicking on the Link icon at the bottom of the Layers Panel. Now click and drag the selected layers from the Layers Panel into your layout. The layers should all move together to your page. Since they are linked, all the layers will stay together when you reposition the embellishment.
Now you can finish your layout by adding a photo, title, flower clusters, or any other embellishments you desire. While we used layered embellishments from the Scrap Girls Club for this tutorial, you can create endless variations using the above techniques to mix and match the layers from any embellishment or template that comes with individual PNG files or a layered PSD file. When you finish your page, we'd love to see it in the Newsletter Tutorial Section of the Scrap Girls Gallery!

Layout by April Martell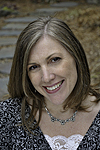 Tutorial by April Martell