Article written using Photoshop CS6 with Windows 7
I have prepared our Thanksgiving dinner since the first year I was married, and I usually cook the same things each year. Now that most of my children are adults, I decided to create a Thanksgiving cookbook for my children with all the recipes our family uses – even the one off the back of the pumpkin can!
I chose to make my cookbook the same size as a series of cookbooks my husband's mother published in the 1970s – 7 inches wide x 8.5 inches tall. I needed to change the size of the 12×12-inch background papers to make them work with this page size. In this tutorial, I will show how to convert a square paper into a rectangle without distorting it or losing its decorative edges.
First, place your 12×12-inch paper into your rectangular layout. Drag the paper down until the bottom aligns with the page edge. (When you click on your paper and hold down the Shift key while you drag, the paper will move in a straight line.)
Next, duplicate the paper layer and align the new layer with the top edge of your page. If you are using a patterned paper, you will need to line up the pattern.
Now we are ready to work some layer mask magic to make the paper seamless!
Make sure your foreground and background colors are black and white.
Select the Gradient Tool. It is grouped with the Paint Bucket Tool. You can left-click over the tool to show the others nested with it.
Set your gradient options in the top menu bar. Choose the Linear Style, Normal on the blending mode menu, and 100% Opacity.
Select the top paper layer and apply a layer mask by clicking on the layer mask icon at the bottom of the Layers panel. You can ensure the white layer mask is selected by clicking on its thumbnail in the Layers panel.
Using the Gradient tool, click on the lower edge of the top paper and drag straight up for a few inches. The look will vary depending on how far you drag, but don't get too close to the top edge of your bottom layer or the background may show through.
There should be a smooth transition between the two paper layers. The layer mask thumbnail next to the paper in the Layers panel will show a black gradient. If it doesn't look quite right, click Ctrl+Z and try again until you get a look you like.
When you are satisfied with your paper, merge the layers and your paper is ready to use. Now you can create and share your own family cookbooks without being limited by the format of your papers.

Layout by April Martell
Digital scrapbooking products used: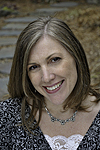 Tutorial by April Martell