Tutorial created with Photoshop CS6 and Windows 7
Embellishment clusters can dress up your digital scrapbooking layouts in a fraction of the time it takes to arrange the embellishments on your own. The pre-made cluster embellishments come on a single layer as a PNG file. Even though they don't have layers, I often change up the clusters to make them work better with my pages. In this tutorial, I'll show a simple way to do this.
First, choose a cluster for your page. I am using Laura Louie's Wild Things Embellishment Mini with the coordinating solid papers and collection. I positioned a clustered border on the left side of my page, then reduced the size and "clipped" it to the circle layer of the layout template. You can see in the screenshot below that the flower and ribbon are cut off at the edge of the circle. This isn't the look I want.
An easy way to fix this is to find a similar ribbon and flower in the coordinating collection. Place them in your layout, then re-size and arrange them so they cover the original embellishments in the cluster. Now they are customized for your page.
To finish my layout, I added an extra flower to the border and created a coordinating embellishment cluster on the right side of the photo to balance the page. I chose the same flowers and leaves used in the original clustered border but varied their sizes. Finally, I tied them together with a ribbon.
Try changing up some pre-made clusters on one of your next digital scrapbooking pages to make them look like they were custom-made by you!
Digital scrapbooking products used:
http://store.scrapgirls.com/p27135.php
http://store.scrapgirls.com/p27137.php
http://store.scrapgirls.com/p27134.php
http://store.scrapgirls.com/p5718.php
http://store.scrapgirls.com/p16641.php
http://store.scrapgirls.com/p25845.php
Commercial license versions of ScrapSimple Digital Layout Templates: Bursting are also available.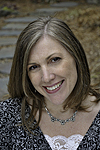 Tutorial written by April Martell