Tutorial created Adobe Photoshop CS4 and Windows Vista
Let's talk about texture today. In digital scrapbooking, there are so many ways to do this. If I wanted to emulate paper scrapping, I would do it differently than if I wanted a highly digital look. It actually took me a long time to decide how to go about this assignment! Finally, I decided to combine the best of both worlds. We'll focus on adding texture in a totally digital way, and we will also incorporate some techniques that will emulate paper scrapping. Let's build a layout together from the ground up, thinking texture, Texture, TEXTURE! Let's begin!
Here is a layout in its most basic form. The background is simply a layer with a color fill. The photos have been chosen and placed on the layout. The frames were chosen from ScrapSimple Digital Layout Templates: Rural Getawaybecause of their burlap texture.
First, let's add some texture to the background. One very simple way to do this is to add a textured paper from one of the many Scrap Girl Collections. Here we added paper from Story of My Life Collection Biggie. See how more depth and texture is instantly incorporated into the layout?
This looks nice, but I wanted to continue to add depth and a "grungy" feeling to the layout. These photos were taken in Balboa Park in San Diego, a park with a definite urban theme. Looking through my Scrap Girls supplies, I foundScrapSimple Paper Templates: Downtown. Using a ScrapSimple Paper Template is one of the easiest ways to add texture to a layout. Place your paper template layer over your background paper layer. Then, adjust the Blending Mode on the template layer until you like the effect. You can also duplicate template layers and choose the same or different Blending Modes on each for an even greater effect. Here, the paper template layer has been duplicated, and the Blending Mode on each is "Overlay." See how much more texture is in the background?
Now, let's go a step further. The photos look great the way they are. They were actually composed in the camera to emphasize texture. However, in the end, I would like even more texture. A very simple way to do this is to add a texture style to your photo mask layer. ScrapSimple Tools – Styles: Painting Textures 8501 was added to the photo mask layers within ScrapSimple Digital Layout Templates: Rural Getaway, then the photos are clipped to the masks.
Alternatively, you can add the style directly to your photo layer. See how much more texture you can find with this simple step? As always, there are many texture styles to be discovered in the Scrap Girls Boutique.
Let's not forget the frame. In the next sample, ScrapSimple Tools – Styles: Grungalicious Scratched Super Biggie 8501 was added to the frame layers. The desire was to increase the amount of texture in the frame without adding weight. The result of this style is exactly what was in my mind's eye.
The layout is now looking very well textured, and the techniques used so far create effects that are digital in nature. Now let's start adding some elements that will continue to contribute to our theme of texture:
The chain link was added to emulate and continue beyond the photo the texture of the wrought iron gate behind Belle.
Below the photos, a paint wash was added as a matte to help draw the eye into the photo. The paint wash was chosen because it has a little bit of oil paint texture to it.
A light title outline was added in the "Overlay" Blending Mode. It didn't want to shout out, but by changing the Blending Mode, it adds an element of interest to the background without being overwhelming.
Now we are ready to decorate! This is where the texture and touch-ablity can emulate more of a paper scrapbooking method. The way to achieve that is in the shadows of the elements that you add. There are several shadow actions and styles in the Scrap Girls Boutique that are go-to products for this kind of look. In this sample, ScrapSimple Tools – Actions: Deep Shadows 6501 PSE and PS Biggie has been added to all the elements.
Think about how real shadows look. Larger items will have larger shadows, while smaller items will have smaller shadows. How deep the shadow might be is determined by how "high" you want it on the page, and how it might be layered over or under another element. Shadows help give a layout texture and depth, and make it feel touchable, which is a key to emulating a paper scrapbook page.
Adding texture to a layout is one of my favorite things to do in digital scrapbooking. I love the depth and touch-ability that it conveys. Plus, there are so many different means of adding texture. You could focus on strictly digital effects for a highly digital looking layout, or you could focus on techniques that make a layout look very traditional, as in paper scrapbooking. Or you can combine the effects of digital elements with the appearance of traditional paper scrapbooking page for an altogether different look. With digital scrapbooking, the choice and the creative options are all yours!
I hope you are inspired to try various techniques for adding texture to your layouts. Play around with texture on your next layout and then share your results in the Scrap Girls Gallery!
Digital scrapbooking products used:
Commercial license versions of ScrapSimple Digital Layout Templates: Rural Getaway, ScrapSimple Tools – Styles: Painting Textures 8501, ScrapSimple Tools – Styles: Grungalicious Scratched Super Biggie 8501 and ScrapSimple Tools – Actions: Deep Shadows 6501 PSE and PS Biggie are also available.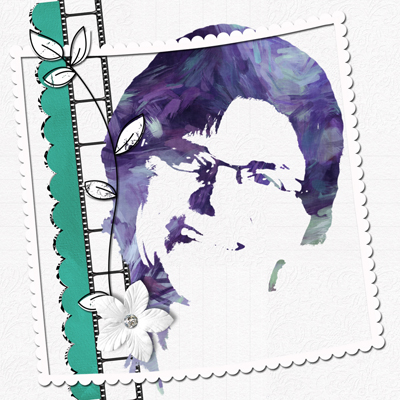 Tutorial written by Amy Flanagan