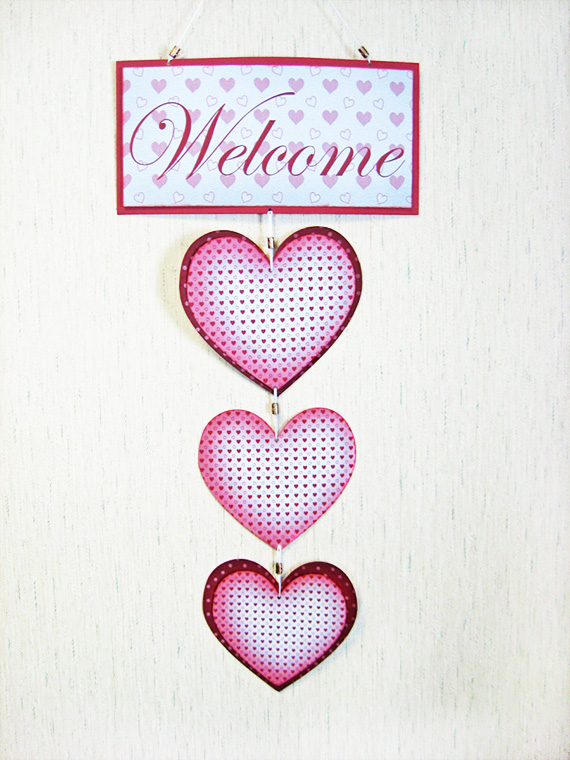 I wanted to make a little Valentines decoration for the wall in my craft room. I decided to use my Silhouette Cameo for this project but you can use whatever software that you create with.
Digital scrapbooking supplies used:
Sweet On You Collection
Craft supplies used:
8.5 x 11 cardstock for printing
Scissors or Silhouette Cameo for cutting
Pop Dots
Sticky Strip Tape or Glue
Ribbon, Twine or String
Hole Punch
Assorted gems for decorating (Optional)
Distress Ink (Optional)
Step 1: Open your Silhouette Cameo and set your mat to 8.5 x 11 inches. Drag in your choice of digital scrapbooking paper/papers and embellishments you are going to use.
Step 2: I wanted my wall hanging to say Welcome but I also wanted my word art to match the colors of the embellishments in the collection, so I brought in the Valentines word art so I could match the color. I typed in Welcome and chose my font. Next, I selected Ginny's Valentines word art and clicked on the paint bucket at the top to select the color. I clicked on my welcome word art, chose the paint bucket again and selected the color I had just picked out of the valentines word art, voila now I have created a matching Welcome word art.
Step 3:  Layer the word art on top of the paper you have chosen, print and cut. My welcome layer is 4.50 inches by 9.75 inches.
Step 4: Bring the heart layers on to the mat, choose the size you want, print and cut. I was only able to place 2 hearts at a time on my mat because of the sizes I chose.
The sizes for my hearts are:
Top Hearts — Red Heart is 6.25 inches wide and the White/Pink Heart is 5.5 inches wide.
Middle Heart — White/Pink Heart is 5.75 inches wide.
Bottom Hearts — Red Heart is 5.5 inches wide and the White/Pink Heart is 4.75 inches wide.
Step 5: Distress the edges of all your cut pieces (optional). Punch holes in the hearts and the top part of your sign, run ribbon or thread through the holes, decorate with bling (if you so choose) and now — you are ready to hang your decoration.
I hope you enjoyed this tutorial and will give this Hanging Wall Decor a try. Please share your projects in the Scrap Girls Hybrid Gallery.
Tutorial written by Sherry Davis