Audience: Intermediate
Category: Apps, Technology & Hardware
Operating System: Windows 7
Software: Adobe Photoshop CS6
Years ago, a friend told me that she could go into a kitchen and make the family's favorite foods simply by choosing the messiest recipe cards in the box. I'm sure that is true for many of us, and my mother's recipe box is no exception. This tutorial will cover how to scan recipes using the Flip-Pal mobile scanner and how you can eliminate the extra background in Photoshop.
My sister, Patty, has my mother's recipes, so I let her use my Flip-Pal mobile scanner. She was a bit intimidated by it at first, so I walked her through how to use it over the phone. Once she started working with it, she was amazed at how easy it is to use. Let me give you a quick walk-through:
Turn on the scanner.
Place the recipe face down on the scanner glass. We centered the recipe so all the edges were in the scan.
Press the green Scan Button.
My sister and I have a shared Dropbox folder, so I had the completed scans open in Photoshop within a few minutes.
With your image open in Photoshop, you can use the Polygonal Lasso tool to extract the recipe card from the white background while preserving any distressed edges. To do this, select the Polygonal Lasso tool (it is grouped with the Lasso tool). Now simply click along the edges of the card. If you need to undo any clicks, you can use the backspace key. When you get close to your starting point, a small circle will show in the bottom right of the cursor icon. Click on your starting point to complete the selection. You can use the selection to create a layer mask or you can invert the selection (Shift+Ctrl+I) and delete the background.
With the background eliminated, the recipe card is ready to use on a digital scrapbook page. While this recipe may not have been one of my favorites, I love that it is written in my mother's handwriting. If you have treasured old recipes that you would like to preserve, the Flip-Pal mobile scanner can make the job fast and easy.
Digital scrapbooking products used:
Commercial license versions of Everyday Moments 2 Collection are also available.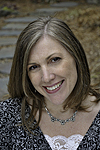 Tutorial written by April Martell