I adore the floral, natural patterns of the Among Wildflower templates.  I had a lot of fun pulling this layout together using elements from the template set and some of the embellishments from my stash.
I started out with the ScrapSimple Digital Layout Templates: Triangulated, because I liked the idea of using a combination of papers from the Among the Wildflower paper templates to make the page.  I colored three of the templates in soft spring colors and built the base using the template.  I did delete everything except the triangles from the template, because I knew I was going to use physical elements for the photos and much of the embellishments.
I did use the brushes from Brush Set: Woodlandia to add a single floral and foliage element to the page as the base.  I stamped it in colors that I pulled out of the papers I had colored so that they would all go together.
Once I printed my base, I added my photos on patterned paper mats, some wood veneers, alpha stickers, and enamel dots to complete it.  The layout came together really quickly and I am really pleased with how it turned out!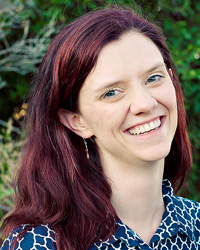 Tutorial written by Charissa Miller