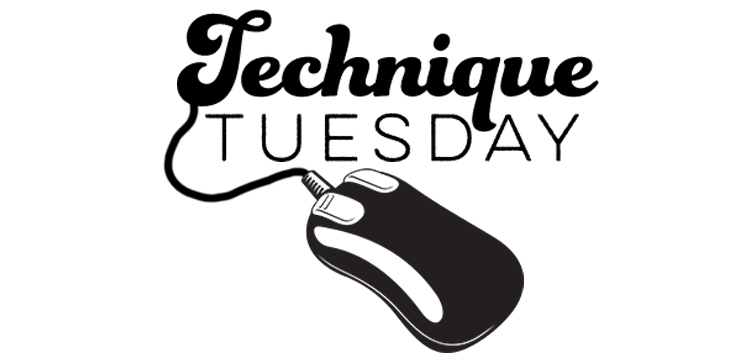 Create Lifted Embellishments by Warping Shadows
Tutorial created using Photoshop CC with Windows 7
Want to discover an easy trick that will instantly give a dimensional look to your scrapbooking layouts?
Lifting the edges of your embellishments is an quick way to add some extra dimension to your already-wonderful digital scrapbook pages. In this tutorial, I'll show how to warp the shadow to create lifted corners.
First, you'll need the shadow on its own layer. An easy way to do this is to apply a drop shadow style to the item first. I used ScrapSimple Tools – Styles: Shadow Me 6301 by Syndee Rogers. After you have applied the shadow style, right-click on the fx on the layer in the Layers panel and choose "Create Layer" in the pop-up window.
Now the shadow will be on a layer underneath the object in the Layers panel. It's easy to find because Photoshop adds "Drop Shadow" to the layer name.
With the new shadow layer selected in the Layers panel, choose Edit > Transform > Warp.
This will bring up the warp grid over the object. The black squares on the edges are the transform handles.
Next, click on one of the corners of the grid and drag it out a bit from the edges. You will need to play with it to get a look you like. When you're satisfied with the transformation, click "Enter" to complete the transformation.
This example shows how to warp the shadow of a paper photo frame, but you can use the same technique on any embellishment on your page. As you play with the shadow transformations, think about how shadows naturally fall on the objects and try to keep the look consistent on your page. I like more subtle lifts, but you can make yours as dramatic as you'd like. When you do a larger lifted corner, you may want to use this technique to transform the paper layer a bit in the opposite direction to make it look more realistic.
In the layout below, I lifted the shadows of flowers, papers, leaves, and the raffia bow. You can see that the leaf and raffia have larger lifts.
Try creating some extra dimension on your next digital scrapbook page by warping shadows to get a lifted look. As always, have fun playing with this technique. We'd love to see your layouts in the Technique Tuesday Challenge Gallery!
Layout Supplies:
ScrapSimple Tools – Styles: Shadow Me 6301
Yours Truly Paper Super Mini 1
ScrapSimple Tools – Styles: Grungalicious Distress Autumn Biggie 8501

Tutorial written by April Martell