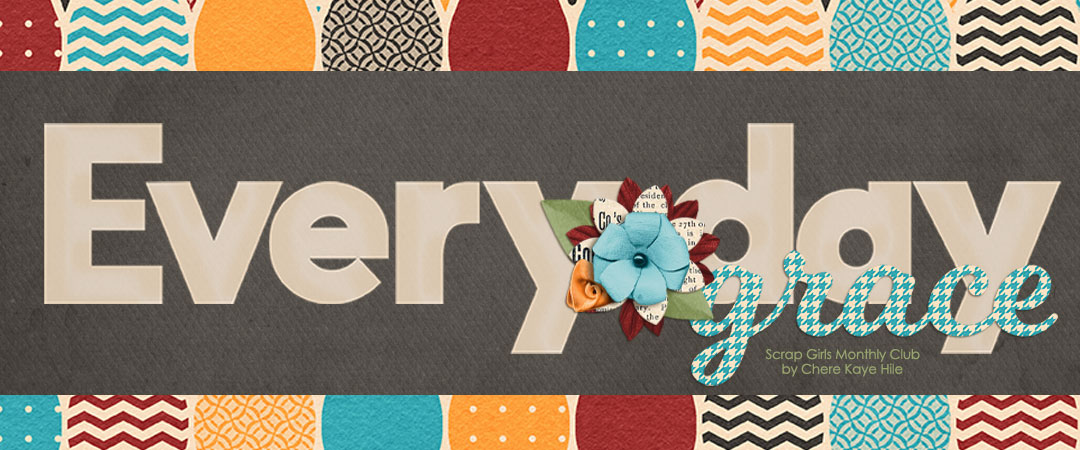 It's December and we know you're wildly busy, but we're inviting you to take a breather and discover the Everyday Grace Collection, the newest offering from Cheré Kaye Designs. "As I designed this month's Scrap Girls Club, I wanted Everyday Grace to be really elastic — good for all sorts of different projects, especially the day-to-day life stuff. The patterns are fun and bright, but the solid papers give you lots of subtle backgrounds to work with, too. The paint and clusters are great for finishing off pages, and I think the entire collection works for all sorts of different styles."
"Give yourself a little grace," as one of Cheré's word art pieces says, and enjoy this preview of Cheré's newest club, which is on sale right now for the lowest price ever — and this month is the only time you'll get her Members Only goodies which will never be released in the store!
---


Layout by Geraldine Touitou
Layout by Carmel Munro

Layout by Amy Flanagan

Layout by Andrea Hutton
---
Behind the Scenes
What inspired her as she designed: I think the inspiration for this collection came from messy, everyday stuff: art work from the kids, my favorite digital supplies, and patience, honestly. I also listened to a lot of music while I created, so albums from The Lumineers, Sara Bareilles, and Ingrid Michaelson played a huge part. 
Behind-the-scenes trivia: The best part of this club for me was working with Angie. This is my first club for Scrap Girls, and she played a huge part in coaching and helping me refine the details. I am very thankful for her expertise. As for parts of the club itself, the word art was probably my favorite to create. Word art isn't my strongest suit, but I loved the quotes and sayings, and each of these spoke to me directly — and I hope they'll be useful and inspirational for you as well!
Inspiration for the product name: This past year has been a tough one for our family, mostly because of some physical health issues. Grace has been the one thing that my family has demonstrated over and over again towards me. Just allowing each other to be real and work through what we needed to in each situation was truly a gift. I feel like I've been watching grace happen around me in the world, and it has been wonderful, so I want to document memories with that in mind.
---
An Amazing Deal!
If you were to buy all of the items in the club individually from the Boutique they would cost nearly $40.00 and we offer it to you for just $9.99 a month!
MONTHLY SUBSCRIPTION

---
Don't Miss It!
Scrap Girls Club members get several Members Only products in each club — things that will never be available in our store!
A JIFFY Easy Page Album Kit: Create the same beautiful layouts as the professionals at Scrap Girls using this set of five templates. Each template is provided as a layered PSD file, allowing you to just insert your own photos and journaling to be finished fast. You also have the option of customizing the templates to create a layout that is all your own. Plus you get Easy Page style PNG's so that you can quickly add your photos!
A Special Designer Gift: Chere created a set of embellishments as her gift to our club members.