Resolution. The Oxford Dictionary says it is "the degree of detail visible in a photographic or television image." In simpler terms, it's how "in focus" an image appears to be. Higher resolution means more detail. Lower resolution means less clarity. However, because of different terms such as dpi (dots per inch), ppi (pixels per inch), monitor resolution, and printing resolution, the subject of resolution can be fairly confusing. Let's break it down and see what resolution means for our digital scrapbooking.
Keep in mind that resolution is a pretty general term. Dpi and ppi are the units we use to measure resolution. The number of dpi is important in scanning and printing. A higher dpi means clearer images. On the other hand, when we use photos and create digital scrapbooking layouts, we need to understand the effect of ppi.
Here's why: The images we scrappers work with, both photos and digital scrapbooking elements, are raster images, meaning they are made of pixels. A pixel is defined as an individual point of color, the smallest element that makes up an image. You've probably noticed pixels when you zoom in very close to an image you're working on. They look like little squares. Each tiny square is a pixel.
Note: Some graphics, such as the Custom Shape products in the Scrap Girls Boutique, are vector images which are not made of pixels and are not affected by a change in resolution. 
Pixels vary in size. They get larger as we enlarge our photos, smaller when we reduce the size of the photo. If a very large image has the same number of pixels as a tiny image, it will look unclear or "pixelated." To increase clarity, we must increase the number of pixels in the image – the pixel density – that is, the number of pixels per inch. We need to increase the ppi. In the scrapbooking world, 300 ppi is the accepted standard.
On this paper from the Strawberry Fields Collection Mini, I zoomed way in to show the pixels. By the way, some people like the extremely pixelated look and use it as a fun design element.
We need many more pixels per inch to print a clear image than we do just to see it on the screen. Don't be fooled by what you see on your computer or phone. What we see on the screen and what the image looks like when printed can be quite different due to the fact that screens have a fixed resolution – a certain number of pixels horizontally and a certain number vertically. In other words, a monitor does not adjust for pixels per inch, so your image will look the same on the screen regardless of how many ppi it contains.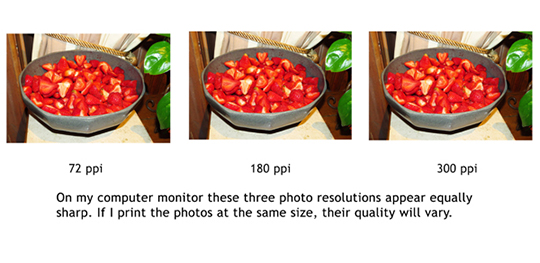 As you might expect, the more pixels, the larger the file. But when we want to upload the image to the Scrap Girls Gallery, to social media sites, or to email, we need to reduce the size of the file by reducing the number of pixels, usually to 72 ppi.
There are several ways to reduce file size. Here's one quick way: Open your image in Photoshop Elements. Go to Image > Resize > Image Size. In the drop-down menu, change the number of pixels per inch.
What happens when you change the ppi? PSE has to adjust either the number of pixels or the number of inches. Keeping the Resample Image box checked makes the file smaller. If you uncheck the box, then PSE changes the number of inches but leaves the file size alone.
Tips:
1. It's always preferable to start with as good a quality photo as possible. Use your camera's best quality setting. File sizes will be larger, but most camera SD cards have lots of storage space.
2. Scan at 300 dpi or more. A photo scanned at 72 dpi might look fine on your computer monitors, but its printed quality will be lacking, especially if you plan to print your page at 12×12 inches.
3. If you scan a photo at 300 dpi and use it on a 300-ppi scrapbook page, it will be the same physical size as the original photo. That's important to know because many heritage photos are physically very small. If scanning a tiny photo, try scanning at 600 dpi or even more to enlarge it. The more pixels a photo has, the larger it can be printed and still look clear.
Resolution can be a complicated subject, but I hope this helped clear up some of the basics so you can get the kind of quality you want in your photos and digital scrapbooking. We always like to see your finished pages, so be sure to upload them (at 72 ppi, of course) to the Scrap Girls Gallery and let us admire your work!
Digital Scrapbooking Products Used: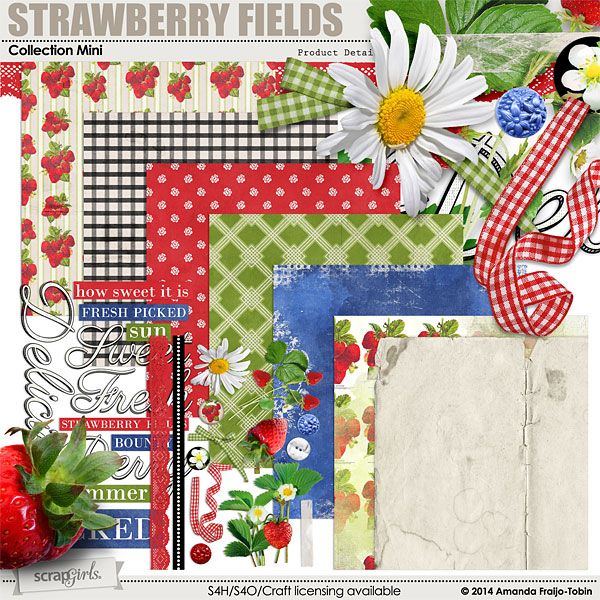 Strawberry Fields Collection Mini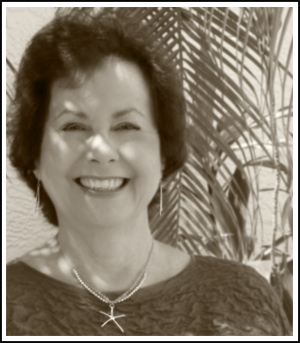 Article by Diane Lardieri
Article written with Photoshop Elements 11 and Windows 8.1