I've had dogs all my life. At one point I had 5 wonderful dogs living with me but when I found myself without a pet I decided a cat might be a better fit because I was travelling a lot for work.  Hence my little buddy "DJ." I've trained dogs over years and comically thought I could train my cat too! Oh, how wrong I was!! He has ignored my "House Rules" for nearly 10 years and I don't have much faith that it will change. This is a little printable tag album I put together to showcase some of his funny antics.
Digital scrapbooking products used:
ScrapSimple Paper Templates: Pierced
Keys To Happiness Kit
ScrapSimple Embellishment Templates: Tattered Photos
ScrapSimple Embellishment Templates: Fabric Buttons
ScrapSimple Tools – Shapes: Slim Tabs 5701
ScrapSimple Embellishment Templates: Blendability Masks
Antique Azure Kit
Supplies used:
Digital Scrapbooking Supplies
2 sheets 12×12 card stock for folder
2 sheets 12×12 card stock for the tag book
1 sheet 8.5×11 card stock for small pocket holder and hinged tag inside the book
1 metal hinge
Word Art for front of folder (author unknown)
6" ribbon
Strong adhesive – I used: Ranger's Glossy Accents for metal hinge; Ranger's Wonder Tape – redline, and permanent Xyron cartridge.
Paper trimmer
Scissors
Centering Ruler or regular ruler
Ink pad (if you choose to distress the edges by hand)
Circle punches for ribbon hole in tag and also for 2 circles on the folder front
Brushes I made from stamps I own: Cat in bowl on back of folder, Cat & paw prints on front of tag book, cat silhouettes
Folder Instructions:
I like to make my folder from card stock to give it more substance; so I do this first and attach my digital scrapbooking art later. I've used Navy Blue for this project – it's a coordinating color with my digital art so if I undercut anything it won't be a glaring mistake. Below is a drawing that shows the pieces for the folder; detailed instructions are right below that.
Diagrams: Cut lines are in Blue; Score Lines are Dotted Green, red line tape strips are in Red
Panel A: Cut card stock to 6×8
Panel B (See "Drawing A" above for reference) 
Cut a 5×8 panel from card stock and score a vertical line 1-1/2" inch from the right edge. On the left edge, measure down 3-1/2" inches and mark it with a pencil. Using the pencil mark as a guide, trim from the top of the score line down to the pencil mark. Now trim from the pencil mark down to the bottom of the score line – this gives us the triangular piece. With the point facing left, add two vertical strips of redline tape inside the scored section.
Attach Panel B to the back of Panel A; Panel A will sit right up next to the scored line on top of Panel B.
Panel C
Panel C is a duplicate of Panel B. The only difference is when you add the redline tape make sure the point is facing right. Again, it gets adhered to the back of Panel A.
Panel D
Place your final piece of card stock in front of you so it is 6" wide by 6-1/2" inches deep. (See Diagram A above for reference). Score a horizontal line 1-1/2" down from the top edge.  Use a centering ruler to find the center along the bottom edge; measure 3/8" inch out on both sides from the center and mark them with a pencil. Using the pencil marks as a guide, trim from the score line edge to the pencil mark on both sides – with the end result creating a triangular with a flat point. Apply your tape and attach this to the back of Panel A. Your folder should look like the diagram below is ready to decorate!
This is where my digital scrapbooking supplies come in!
Using my scrapbooking software I design these pieces:
Two 6 x 8 inch files for the back of the folder & the front (which will be the inside when completed).
Two files at 3-1/2 x 8 inches for the two triangular parts of the folder
One 6 x 5-1/2  inches for the bottom panel of the folder.
Print your completed digital files out and trim them down.  Adhere your art for the inside of your folder, the two triangular sides and the bottom triangular to one side of your cardstock. Trim excess overhang of paper off the two side triangles and the bottom triangle. Flip your cardstock over and add your back panel. Flip your card stock back over and fold the two sides in and the bottom up, tacking them together with a little adhesive to make your tag book folder. Punch a 1-3/4"+/- circle out of card stock and adhere at the top where the two side panels and the bottom panel meet and punch a smaller circle from printed paper to decorate that first circle. In this case I added a second circle for more decoration.
Tag Book Instructions:
Cut an 11 x 7-3/4" panel out of card stock and score it vertically at 5" and 10" inches along the 11" edge. You will have a 1" wide panel at the end. (See the "Drawing E" below)
Cut a 5 x 7-3/4 inch panel of card stock and trim the top corners as shown in the "Drawing F" below. I use this trimmed panel as a template to trim the corners off the other 2 panels of my book. Add adhesive to the 1" flap (see red in above "Drawing E") and attach it,  being careful to line the left edge of the single tag up against the score mark on the double tag piece.
Now you should have a book that has 3 panels and is ready to decorate.
I love templates – they make designing faster as you don't have to redo what you've already done. But, if you prefer not to use the template, you can open a file in your digital scrapbooking software 5" wide by 7-3/4" inches tall.  Decorate to your heart's content, print each file out, trim them down and adhere to the pages of your book.  Note: you'll want to make sure your Cover is on one of the panels at either end (and not on a middle panel) so when your book is folded it is on top.
Download FREE template here:
[wpdm_file id=10]
Decorating your album will be a personal choice as you will all have different themes and pictures. Here are some techniques I've done.
 Page with hinged panel: 
I started with the base page and set up my digital scrapbooking design. I want the photo on this base page to be completely covered by the hinged panel, so I make the photo size smaller. Once this page is designed I printed it out, trimmed it down and adhered it to my tag book.  The photo below shows you my base page.
To make my hinged panel, I went back into PS, open a file that was 4-1/2 x 5" inches, scrapbooked my panel, printed it out and adhered it to a piece of cardstock the same size. I didn't want the brads holding my hinge to go through the panel of my book and stick out on the other side, so I placed the brads into the hinge and spread the backs as flat as I could before I glued it on – making the brads a decorative item rather than a way of attaching the hinge. I used glossy accents on the back of the hinge to adhere the top of the hinge to the background panel tag and the bottom of the hinge to the mat that lifts up. The photo below shows how the page looks once the flip up tag has been added.
For my pocket and tag page, I created the background from a digital paper, printed it out, trimmed it and adhered it to a page in my book.
In my scrapbooking software I open up a file that is 4-1/4" wide by 4-1/2" deep – slightly larger than the pocket holder because I want to wrap my paper around to the back. Using my digital scrapbooking supplies I create my design for the front of the pocket, print it out and trim it.
Cut a piece of card stock  4-1/4" wide by 4-1/2" deep; score a vertical line ¼" in from both of the side edges and a horizontal line ¼" up from the bottom.
Adhere the digital design you printed out & use a circle punch to cut a half circle in the top center. Fold the two sides in first then the bottom up; add adhesive to the folded edges and adhere the pocket to your album page.
My tag for the folder is cut out of cardstock to 3-1/2 wide x 5-1/2 long. I digitally scrapbooked a design the same size and added it. Trim the top two top corners to make it appear to be a tag, punch a centered hole for ribbon and tucked it into the pocket.
Here are my 6 pages.  I put the cover page on the panel to the far right of the first side so that when I fold the book accordion style it will become my front page.
I hope you've enjoyed my project and we would love to see how you use your digital scrapbooking supplies and templates to create your own hybrid projects – please post them in the Scrap Girls Hybrid Gallery!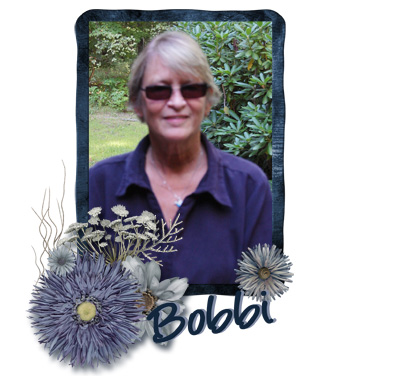 Tutorial written by Bobbi Start