Most often with our scrapbooking, we are looking at preserving memories and using our photos as a focal point. This is the basis of what we do in scrapbooking, whether it's paper, digital, or hybrid. The photo is the star of the page!
Oftentimes, though, we can be very creative in designing layouts with no photos at all. In doing so, we can still communicate something about ourselves or illustrate a memory that we want to preserve. Maybe there is a topic for which there are no photos – or no acceptable photos? Or maybe it's a memory we want to share but since we are often the ones behind the camera … you know where I'm going with that, don't you? I know that I practically don't exist in our family albums, so by making photoless pages about things that are important to me, I become represented, at least a little bit!
Sometimes starting with a blank page can be very intimidating, especially when working with a photoless spread. I'm going to show you a couple of ideas for where you can be particularly creative without those precious photos.
First, what comes to mind is an ATC – an Artist Trading Card. They are small, measuring 2.5×3 inches. They can be as simple or ornate as you like, and you can use them to tell something about yourself. They can be traded with others, something like a modern calling card, or stored and displayed nicely in baseball card sleeves in binders. I love the look of these as they congregate in my binder. Being small, they are unassuming and unintimidating: a great way to start getting comfortable with building photoless layouts.
A second purpose for creating a photoless layout is as a greeting card. I love that we can take our Scrap Girl supplies and create to our hearts' content a card that will be sent with a special purpose to our loved one. It can be any size that you like, and as with the ATC, it can be simple or ornate. This card was created at 5×7 inches.
Another medium for photoless layouts would be to create an Art Journaling Layout. As we have discussed recently, there is no right or wrong way to design an Art Journaling layout. There are no real boundaries, and our typical design rules don't necessarily apply. Where do you start on a layout with a larger canvas size such as 8.5×11 inches or 12×12 inches when you don't have a photo? That's so much space! Don't let that blank page sway you. There are plenty of paper templates and textured background papers to help you get started! Then you can throw caution to the wind and just "play" with your thoughts, your phrase, your memory verse, or your little collections of junk that might inspire you in ways you never imagined.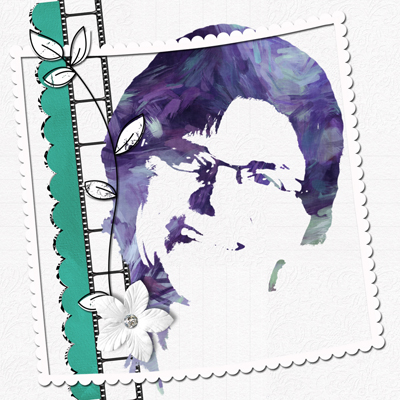 Article written by Amy Flanagan