What would we do without styles? Being able to add touches of virtual glitter, glass, paint, metal, wood, and so much more is one of the best parts about digital scrapbooking. Today, let's work with one of the options available: adjusting the pattern size of styles by scaling. Since we might want to apply the same style to different-sized objects from background papers to tiny embellishments, it's good to remember we have scaling capability in our little bag of tricks.
Not all styles have noticeable patterns, but let's see what happens when we change the scale of styles that do.
Here are a couple of examples.
As you can see, scaling makes quite a difference! Admittedly, some patterns look better than others when their scale changes drastically, so it doesn't hurt to experiment a bit and see for yourself which results you like.
Before we adjust pattern size, we have to first apply the style to the object in the layout. Let me explain how it works in Photoshop Elements 11. (Although applying a style might be a bit different in other versions, they all work in a similar way.) First, activate the layer you're planning to add the style to. Next, go the Styles tab and navigate to the style you plan to use. Double-click on the style to apply it.
Once you've applied your style, go to Layer > Layer Style > Scale Effects. Use the slider or type into the number box for the percent change you want.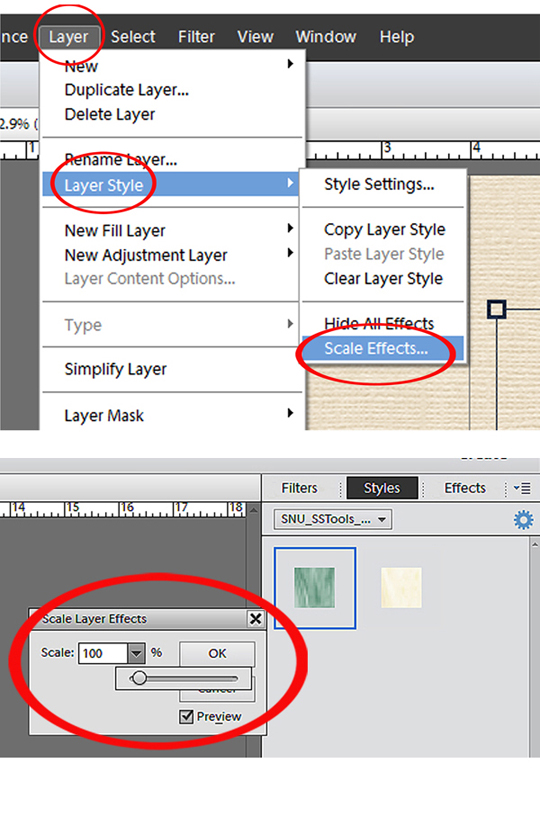 Here's an example of when you might want to adjust the pattern size. I wanted to use a pretty teapot from the Brush Set: Afternoon Tea Biggie for a layout of a doll's tea party. I added a style from the ScrapSimple Tools – Styles: Iridescent Party Confetti 7601 Biggie to give it a festive touch. As you can see, the style overwhelmed the delicate teapot. When I scaled it to 40%, however, it was just right for my layout.
The SG Design Shop offered more than 400
Styles
, and I think I've collected a good many of them! If you aren't familiar with styles, you are missing a treat. They are very easy to use, and instructions for installing and using them come with each one you buy. I hope you have fun adjusting the pattern size of styles by giving scaling a try.


Article written by Diane Lardieri