(a.k.a Maze Book)
This hybrid album gets its name from the way the paper is cut and folded as it "meanders" across the page to make a seven-page book. I'm not sure who was the original creator of this pattern, but there are many different versions and methods available. I will share with you the techniques I have discovered and refined. The finished book measures 3.25×3.25 inches and is perfect for a quick little book to bless a friend, tuck into a birthday card, gift basket, or as a little party favor at each place setting. The theme can be whatever your imagination makes it.
I am making several of these little books. They will be matted and ready for Thanksgiving so that all I need to do is add photos and journaling. I'm going to share with you the process of making the book and how I incorporate my Scrap Girls products to make this a unique and fun hybrid project.
Supplies needed
:
Digital scrapbooking kits
One 12×12-inch sheet of color-coordinated card stock
Two 3.5×3.5-inch coaster squares, mat board, or chipboard
One 2×3-inch piece of cardstock for binding
8.5×11-inch cardstock or watercolor paper for printing tags and journal spots
Small circle punch
Paper cutter, scissors, or ruler guide and X-Acto™ knife
Paper-scoring board or bone folder
Adhesive
I always start with the digital scrapbooking paper that I want to use inside the book and on the cover, and I print those out on 8.5×11 sheets of photo paper or cardstock – your preference. Next, I go to my 12×12 cardstock stash and pick out a color that coordinates with the digital kit I'm using.
Step One: If you have a Scor-Pal® or another scoring board, you will place your 12×12 colored cardstock on it and score at 3 inches, 6 inches, and 12 inches. Turn the cardstock 90° and score again at 3, 6, and 12 inches. You should now have a grid of sixteen 3×3-inch squares.
**Note: If you don't have a scoring board, fold your 12×12-inch cardstock in half. Open and bring each side in to meet at the center fold, creasing with your bone folder (a spoon works well if you don't have a bone folder). Turn your cardstock 90°, fold in half and then in quarters again. Now when you open your paper, you should have a grid of sixteen 3-inch squares. Proceed to Step Two.
Step Two: Using your preferred choice of cutting, make the following cuts: (represented by the red lines in diagram below)
a) On the first vertical score at 3 inches, cut from the top all the way down to the 9-inch horizontal score line.
b) On the second vertical score at 6 inches, cut from the bottom all the way up to the 3-inch horizontal score line.
c) On the third vertical score at 9 inches, cut from the top all the way down to the 9-inch horizontal score line.
If you pick up your paper in the top two2 corners and pull slightly away from each other, it will look like you see a large "W".
Step Three:Beginning at the top left side, fold the first square down toward you "on top" of the square below it, and crease the fold.
Continue folding this row "accordion style" until you reach the bottom, creasing the folds as you go. At the bottom, fold it underneath the second row and continue on up this row, accordion-style, to the top, folding the top square underneath the third row, folding this third row same as the first row, and finishing the fourth row the same as the second row. You should now have a neat, tidy 3×3-inch stack of pages.
Now we are ready to glue our pages together to form "pockets".
If you stand up your pages, you will see a "wing" as your first and last page. These will be used to attach the pocket pages to the cover. The first fold is on the side with a top opening. Glue/tape the bottom together to form your first pocket (top-loading pocket).Place tape to the back fold section to help hold the binding together.
Tape only the back folds on the front and back "wing" section. This stabilizes the book for binding.
In the next set of pages, you will notice that the fold is on top with an opening on the side and bottom. Again, glue/tape the bottom together so that your second pocket is made (side-loading pocket). Continue in this manner until you have four top-loading pockets and three side-loading pockets formed. Using your small circle punch, punch a half-circle centered on the first layer of each top- and side-loading pocket. This "thumb-hole" makes it easier to slide your tag in and out of the pocket.
Binding: Take your 2×3-inch piece of cardstock and apply strong tacky tape along each 3-inch side. Next, tape half an inch in from the back fold of your first "wing," then wrap the binding around to the back "wing" and tape in place. All your folds are now hidden by the binding piece.
Cover: Using your printed Scrap Girls paper, cut four 3.25×3.25-inch squares. Apply adhesive to both sides of your coaster squares, mat board, or chipboard. Apply glue or "red tape" to the front of the first "wing" and then center it on the cover. Repeat process on the backside of the back "wing." Your book is assembled, and now the fun begins!
Using your favorite digital scrapbook kit, mat each page with 2.75-inch squares. Don't forget to punch the half circle for those pages with the thumb hole.
Journaling Spots and Pocket Tags: In Photoshop, open a new document with measurements 2.5×2.5 inches. I like to resize my favorite Scrap Girls journal papers that coordinate with my book papers. I also create the tags at 2.75×2.75 inches (you may need to trim them just a touch) using digital brushes, word art, and embellishments that coordinate with my papers. Once created, these tags and journaling spots will be transferred to an 8.5×11 document and printed on either cardstock (or I often like to use watercolor paper). Cut your items from your printed sheet and add to your book using ribbons, buttons, brads, flowers, and whatever else you can dream up to embellish your beautiful book!
Additional Idea: If you have a favorite layout you have created, resize the JPG to 2.5×2.5 inches and glue that to your book page or make it your tag!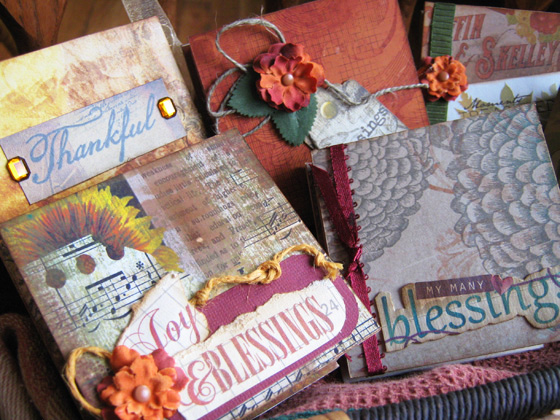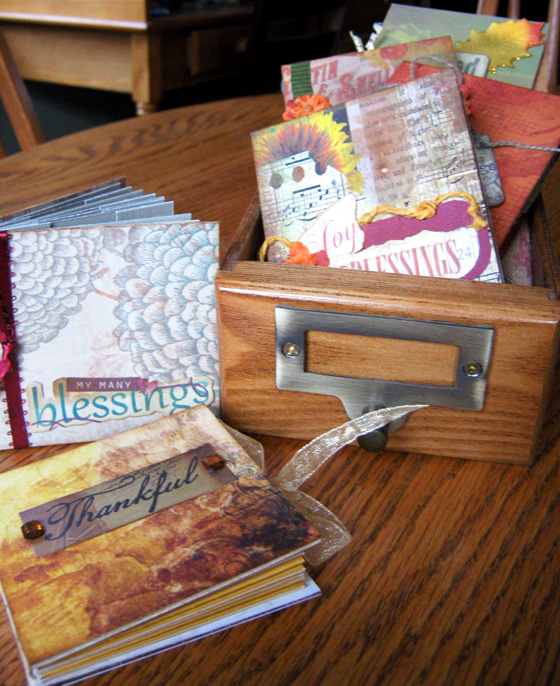 If you give this project a try, please post it to Scrap Girls Hybrid Layout Gallery so we can see your creation! Whatever you do, enjoy the process!
Digital Scrapbook Products Used: