Whether you are just learning Photoshop Elements or you are already comfortable and familiar with its editing capabilities, one option is well worth exploring. That option is Guided Edits.
You will find the Guided Edit tab at the top of the Editor window between Quick and Expert. Just click on the tab to move your photo automatically into Guided Edit mode. Once there, you will see an array of options under three broad categories: Touchups, Photo Effects, and Photo Play.
The first of these, Touchups, guides you step-by-step through many basic editing tasks, such as cropping, straightening, and color correction. It can be a great help when you are a beginning scrapper. The other two categories, Photo Effects and Photo Play, are great for guiding you through more complex photo manipulations. You might not want to use every option, but it's nice to know what's available.
As one example, let's work with Depth of Field from the Photo Effects category. Depth of field, to put it very simply, is how much of the photo is in sharp focus vs. out of focus or blurry. We usually want our whole photo to be sharp and clear, but sometimes we might want to emphasize just one part of it. Having control over the depth of field allows us to do that. Digital SLR cameras achieve depth of field effortlessly. Those of us who take photos with point-and-shoot cameras – or our phones – can still achieve the artistic depth of field effect through Guided Edit.
Here's how it works. This is the original photo of a flower in my yard.
To emphasize the blossom, I clicked on Guided Edit > Depth of Field > Simple.
As the name suggests, I was then guided through the process, first by adding a background blur, second by dragging the Gradient tool over the parts of the flower I wanted in focus. Lastly, I was given the opportunity to use the slider to increase the background blur, if I wished.
Regardless of which Guided Edit you are working with, here are two tips:
– Notice that you have different View options. Give them a try to see which one you like.
– When working on your photo, if you don't like how it's going, just click on the Reset icon to begin again.
When you are finished, click Done, then click on the Expert tab to move the photo back into Expert mode. You will notice that the photo now has extra layers. By merging the layers, your photo will be ready to use in a layout.
Here's my finished photo after completing the Guided Edit. I like the way the background blur helps focus our attention on the pretty blossom.
Give Guided Edits a try, and when you do, be sure to upload your finished layout to the Scrap Girls Gallery so we can admire your work.

Digital Scrapbooking supplies used: 
Value Pack Dogwood Days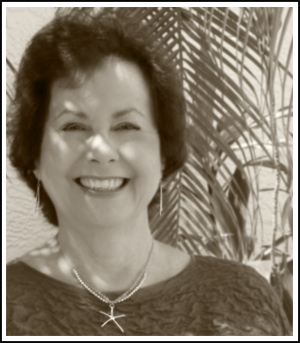 Article by Diane Lardieri