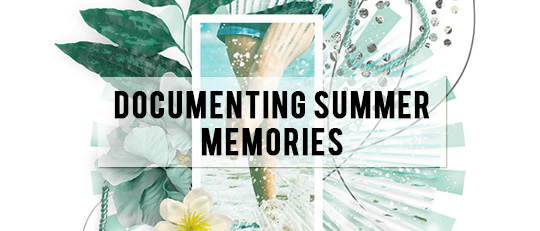 Summer is for trips to the beach, picnics, running through the sprinklers and creating lasting memories. Scrap Girls has tons of great Summer themed products and inspiration galore! Even if you tend to stay close to home during the summer months like my family and I, there are fun ways to document your summer.
Tips for getting the most out of your summer memories:
Take photos of your favorite summer foods, drinks, restaurants.

Zoom in close to objects, such as driftwood on the beach, a child's toes in the sand, the umbrella in a fruity summer drink.

Journal about your favorite lazy summer afternoon, or what you would do if you had a lazy summer day.

Create a page about your favorite summer read, take a photo of the book and your favorite reading spot.

Take a photo of the sunset and create a page where the photo is the background. Add your favorite Summer quote on top and blend into the photo.

Ask your children what their favorite summer activities are and include on a summer-themed page.

Take photos of your pets playing in the sprinkler or eating watermelon for a fun pet page!

Use a non-summer themed scrapbook kit.

Check out these fantastic Summer themed products!
(Click on the images below to be taken to the product page)




Last but not least here are a couple of layouts from the Creative Team that caught my eye in the SG Gallery:
The photo in this layout really stands out and I love that it takes up more than half the page. The colors and placement of the digital elements on the page really enhanced the overall design. I love that Carmel used flowers mixed with twine and rope elements.

Layout created by Carmel Munro using Hazy Summer Collection Biggie
This layout is another example of a large photo, and Judy blended the photo edges into the watercolor paper. The colors really pop and bring out the colors of the swim goggles in the smaller photo. That small photo is awesome! If only all photos could capture candid shots like this!

Layout created by Judy Webster using: Wordsmith Collection Biggie, SS Tools – Styles: Blueberry Lemon and SS Embellishment Templates: Vitamin Sea
SaveSave
SaveSave
SaveSaveSaveSave