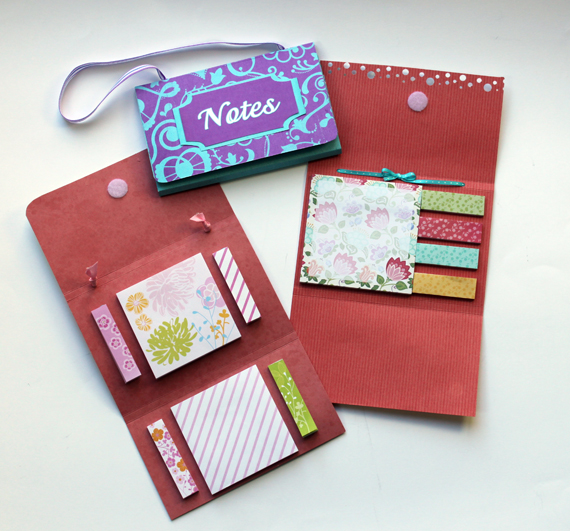 I love Sticky Notes! There, I've admitted it! I like the plain yellow ones, even the bright neon ones, but I LOVE the colorful patterned ones! They make me smile and whatever I have written on them doesn't seem so bad…even if it reminds me of an upcoming trip to the dentist! But I have a bad habit of losing them. They seem to hide from me and I suspect they have help "walking away" from the drawer or table I keep them in. (I think my love affair was passed down to my daughters.) So, in an effort to keep more organized, I've made these little purses to keep them in, complete with a handle to hang them up! They are so quick, easy to embellish, personalize and fun to have around!
Digital scrapbooking supplies used:
Girly Girl Collection Biggie
Girly Girl Solids Paper Mini
Count The Ways Collection Biggie
Safe Harbor Collection Biggie
Shape Pack: Brackets
Supplies needed:
Colorful, Patterned Digital Scrapbooking Supplies
Card Stock (8.5X11″)
Printer
Ruler
Scissors (or a paper cutter)
Scoreboard and Bone Folder (or ruler and spoon will work)
Tape Gun or Glue
Sticky Notes
Hole Punch (I used a 3/8″ hole bunch for smaller holes)
Ribbon
Sticky Back Velcro Coins (or other closures)
Embellishments such as glitter, buttons, border punches, etc
Step 1 – I started with some cute sticky note sets from the dollar store and from the dollar bins at the craft stores. They came with one or two sticky notes and four flags.
Step 2 – Once my sticky notes were chosen, I looked for Digital Scrapbooking Papers that would match. I chose three different collections to work with because I thought the colors looked nice together. For the Sticky Note Purses, you'll need to print on both sides of your cardstock. First, choose one paper for the outside of the purse; print it using the borderless setting (if possible, but you can still create these purses without that setting and trim off the border) and let the ink dry a bit. Put that same cardstock in and print your second paper on the other side.
Next, I cut my paper to 6×11 inches. You may need to adjust the width depending on the width of your sticky notes. Then score at 3.5″, 3.75″, 7.5 " and 7.75 inches.
Step 3 – In the middle section of your purse, add your sticky notes and flags in any arrangement you'd like.
Step 4 – Next comes the fun part! Embellishing!! I chose digital scrapbooking papers that were solid or had a slight pattern to them for the base. To dress up the purses, I chose coordinating patterned papers and cropped them to 4X6 inches. Then, I printed the patterned paper out and trimmed it down. I then scored the paper at 0.25 of an inch.
Step 5 – Using my tape gun, I attached the patterned paper to the top of the purse, matching up the score lines. This will give the "handle" of the purse a little reinforcement. Now is the time to trim any overlap from the patterned paper. I made these a little larger so that I am sure I have enough room to cover flap. Now you can round the corners of the flap, add a border punch or use edger scissors to create a unique edge to your purse!
Step 6 – I decided to add labels to the purses using ScrapSimple Custom Shapes in Photoshop. There are so many different styles to choose from in the Scrap Girls Boutique! I knew my space was about 2″X4 inches, so I created a new document that size and created my label. I clipped some of my original paper choices to the shapes and added some fun embellishments like hearts and confetti. Once my labels were created, I dragged them onto a letter sized document and printed them out.
Step 7 – With my handy dandy tape gun, I attached the labels to the flaps. Again, you can embellish these any way you would like using buttons, brads, glitter, etc. Once any glue or glitter is dry, it's time to attach the handle. You can use paper, string or yarn, but I chose ribbon. Remember those score marks (3.5″ and 3.75 inches) that made the top flap of our purse? Punch a hole between those two score marks about half an inch or so from each edge. String your ribbon through the holes and tie off and your handle is complete!
Step 8 – Finally, we need a closure for our purse! I am in love with the Sticky Back Velcro brand white coins. Just add them to the bottom flap and the inside of the top flap and you are all set! You could also use a button, ribbon, cut a slit and tuck in the flap, etc.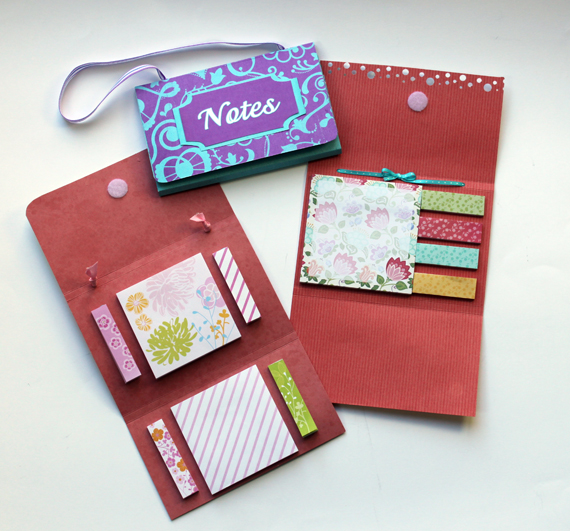 Now that you've seen how easy it is to make your own sticky note purse, I'd love to see what you create! Post your purses in the Scrap Girls Hybrid Gallery so we can see what you come up with!
Tutorial written by Carla Shute