Hey everyone!  Charissa here today.  Need an idea for a quick and EASY Valentine's craft for your sweetie.  I have an idea that comes together quickly and ends up making a great décor piece as well that you can leave out all year long.
My husband likes having recent photos of us for work, so I thought a special photo project would be the perfect gift for him for Valentine's Day.
To start out, I gathered the most recent photo I have of my husband and I together, an 8×10 canvas, and some matte finish Mod Podge.
Supplies used:
8×10 canvas
Matte finish Mod Podge
Paintbrush
photo
I opened the photo in Photoshop and set to editing it and embellishing it a bit.  First I ran it through the Magical Photo action from the ScrapSimple Tools – Actions: Magical Photos PSE to soften the colors a bit to get the feel I wanted.  Then I used the Dyanmic Brush Set: Bokah 8501 and the heart shaped brush to add a bokeh effect along the edges of the photos.
The final step before printing off the photo was to add some embellishments from the Love, Honor, and Cherish digital kit – the label, wire heart, and brads.  I knew that I was going to use physical letter stickers on the label so I left the label blank.
After I printed the photo, it was time to adhere it to the canvas.  I use two layers of Mod Podge to adhere the photo – one under the photo/on the canvas and one on top of the photo.  Using the Mod Podge on top of the photo also gives a fun bit of texture to the photo.
The longest part of this project is waiting for the Mod Podge to dry.  It likely dries in just a few hours, but I let it go for 24 hours to make sure that it was good and dry before I added any additional embellishments.
Once dry, I used some Pink Paislee letter stickers to add the "US" to the label.  A single Dear Lizzy flower beneath the title finished the project.
Hope this inspires you to try to do your own Valentine's Day photo project!  There are so many options and the project comes together really quickly and easily!  Until next time!
Digital scrapbooking supplies used: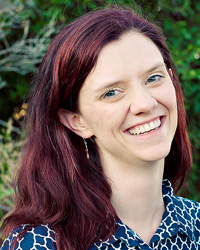 Tutorial written by Charissa Miller