Let's learn a little bit about a creative little gem in the SG Design Shop –
Dynamic Brushes
. Dynamic Brush sets are as fun to use as they are mysterious. My goal is to show you how a dynamic brush differs from a regular brush, give you some examples, and help you learn how they may look on a layout. Let's get started!
The first thing to define is how a Dynamic Brush is different from a standard brush. A standard brush acts as a stamp, just like the rubber stamps from your paper scrapbooking days. As you click your mouse and stamp a brush on your layout, it places in the exact location and in the exact orientation as how you open your brush. It pretty much looks the same every time you click the mouse and place it on your page.
A Dynamic Brush differs in that the brush is "fluid." It is designed so that the opacity, the orientation, color, flow, or placement of the brush on your page changes when you click and drag your mouse across your page. One or all of the characteristics could change! The settings are built into the brush; the designers have done all the work for you!
To show you what I mean, try this – open a regular brush and position it on a blank page. Click once, then drag the brush anywhere on your page. It will look something like this:
You can easily see that this brush is designed to just stamp onto your page. Once you drag it, the brush loses its detail and just becomes a thick blotch.
Now open a Dynamic Brush. Position it somewhere on your blank page, then click and drag. Instead of one long, splotchy line, you will see your shape repeated over and over in the relative path you drew with your mouse. However, you may also see variation in color, opacity, shape size, direction, orientation or all of the above! Here is what one dynamic brush looks like when it is clicked and dragged:
The way the Dynamic Brushes are designed changes the qualities of the brush as you drag it across your page. These alterations on the brush open up an immense number of possibilities as to how and when you might choose to use your dynamic brushes! Let me show you some examples of Dynamic Brushes and some examples for how you might use them.
There are Dynamic Brushes that can create words or word shapes:
See how the size and direction of the word changes as you move across the page? You might use a brush like this in an Art Journal layout or to add interest to a background paper. You might brush it across a photo of your child painting and change the opacity so it's very subtle. The possibilities are endless!
Next, there are Dynamic Brushes for decorative purposes:
See how the brush jitters across the page even though I'm dragging in a straight line? A decorative brush such as this might be used to draw attention across a page or to lead the eye to a focal point in your layout. You might find hearts, stars, flowers, arrows, pendants, scrolls, or leaves to help you decorate your pages!
There are Dynamic Brushes for blending:
This brush was set so that the size of the brush changes as does the color and the orientation. See the variations in the saturation as the brush drags across the layout? These blender brushes might be used to soften the edges of a photo or blend two papers together for a background. You could also paint over portions of a photo for added texture or depth. When you add a color or change the Blending mode, the overall effect can be dramatic.
There are dynamic brushes for framing, edging, or borders:
These Dynamic Brushes might be used to frame a photo or add a border to one side of a layout. This brush was set so that as you drag it across the page, the brush repeats itself perfectly. Remember, if this were a standard brush, it would become a big blotch as it dragged across the page.
There are dynamic brushes for art strokes:
The artistic strokes are one of my very favorite Dynamic Brushes. I love how backgrounds can be painted onto a page and how they can make a photo into a work of art when used with a photo mask. They can be painted onto a background or used to sketch right onto a layout.
Now, let me show you how I used some of these brushes on my layout. For the background, I used Dynamic Brush Set: Painted 6301 and painted onto a blank layer:
After painting the brush work on its own layer, there are a number of ways to adjust the color. In this case, I went to Image > Adjustments > Hue and Saturation, and clicked the Colorize box after selecting the foreground color. Then it's a simple matter of adjusting the sliders to a pleasing point, and the brush layer is magically the color of your choice! The Blending mode can also be changed to allow for additional unique looks.
For this layer, a different artistic brush from
Dynamic Brush Set: Painted 6301
was used to create a clipping mask for a decorative paper. The Blending mode on this brush layer was then set to Color Burn to create a very artistic look to the paper.
Several brushes from
Dynamic Brush Set: Art Diary
and
Dynamic Brush Set: Scattered Words
were drawn across the page in a random manner. These Dynamic Brushes had their Blending modes changed to Color Dodge.
The heart layer was brushed on using
Dynamic Brush Set: Art Diary
, and these layers had their Blending mode changed to Color Burn.
As you can see, there is a large difference between a standard brush and a Dynamic Brush. In my layout below, the Dynamic Brushes did most of the work for me! As you explore and play with the diversity of these brushes on your layouts, you'll be excited to see how much creativity they offer for your digital scrapbooking! The SG Design Shop has a whole selection of Dynamic Brushes for you to explore. After you have a chance to dive into this fun way of brushing your layouts to your heart's content, post your creativity in the Scrap Girls Gallery so we can share in your excitement!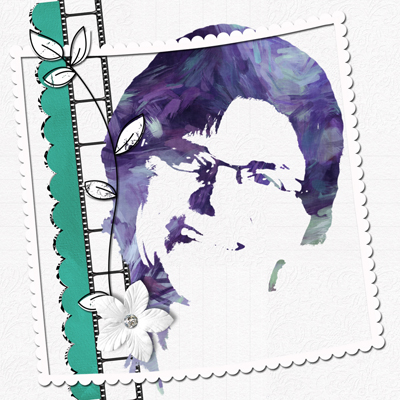 Article by Amy Flanagan
We asked a couple of our Creative Team members to share their favorite Dynamic Brush sets with us!
Melanie Cockshott: I love this Dynamic Brush for adding a little or a lot of confetti in various sizes and patterns to my layouts- it's awesome for layering different confetti styles, as well giving your page a great realistic touch.
One of my favorite uses for these Chic Blenders Dynamic Brushes is to use them with my eraser tool when I want a blended look with my photos and papers on my layouts.
Jody West:
Brushes are a digital scrapbookers best friend.  They can do so many things, from creating an edge for a page to stamping a photo mat, to providing some much needed emphasis.  One of my favourite brush sets is Syndee's

Dynamic Brush Set: Sprayed Paint

.  I use these brushes to add a bit of grunge to a page or to create a stencilled effect.  They also work really well when paired with styles, such as a glitter style or a sand style.  If I want a very subtle grunge look I use these brushes on the eraser setting.